Discovery set ASMR FRAGRANCES
Regular price
Sale price
$10.00 USD
Unit price
per
Try the 7 ASMR FRAGRANCES perfumes at home !
This discovery set of 7 vials of 1 ml is deliberately minimalist in order to be :
- Environmentally friendly : this set is fully recyclable
- Limit costs : this set, made by hand, is sold at cost price
We recommend to use around half the bottle in order to test the fragrance.
Receive a 7 €/$/£ refund for the purchase of your first bottle of perfume following the purchase of the discovery set, see conditions here.
Reminiscent and wearable at the same time, our fragrances are faithful reproductions of powerful and timeless olfactory memories.

Let yourself be carried away on a transcendent olfactory and memorial journey.

SENSATIONS

Discover our binaural videos associated with our fragrances, and enjoy a wonderful sensory, olfactory and auditory ASMR experience.

Relax, close your eyes and breathe...

MADE IN FRANCE

Our high-quality Eau de Parfums are made in the French region of Grasse, the perfume capital of the world.

Eco-friendly.

Vegan & cruelty free.
INGREDIENTS BONFIRE Whisper : ALCOHOL DENAT., PARFUM (FRAGRANCE), AQUA (WATER), EUGENOL, D-LIMONENE.
INGREDIENTS YUMMY Tingles : ALCOHOL DENAT., PARFUM (FRAGRANCE), AQUA (WATER).
INGREDIENTS GRASS Tickles : ALCOHOL DENAT., PARFUM (FRAGRANCE), AQUA (WATER), LINALOOL, ALPHA-HEXYLCINNAMALDEHYDE.
INGREDIENTS OCEAN Relaxation : ALCOHOL DENAT., PARFUM (FRAGRANCE), AQUA (WATER), COUMARIN, D-LIMONENE, GERANIOL, LINALOOL.
INGREDIENTS RAIN Tapping : ALCOHOL DENAT., PARFUM (FRAGRANCE), AQUA (WATER), LINALOOL, ALPHA-HEXYLCINNAMALDEHYDE.
INGREDIENTS HAIR SALON Grooming : ALCOHOL DENAT., PARFUM (FRAGRANCE), AQUA (WATER), LINALOOL, ALPHA-HEXYLCINNAMALDEHYDE, COUMARIN, D-LIMONENE, ALPHA-ISO-METHYLIONONE, CINNAMYL ALCOHOL, EUGENOL.
INGREDIENTS SLIME Satisfaction : ALCOHOL DENAT., PARFUM (FRAGRANCE), AQUA (WATER), ANISYL ALCOHOL, CINNAMALDEHYDE.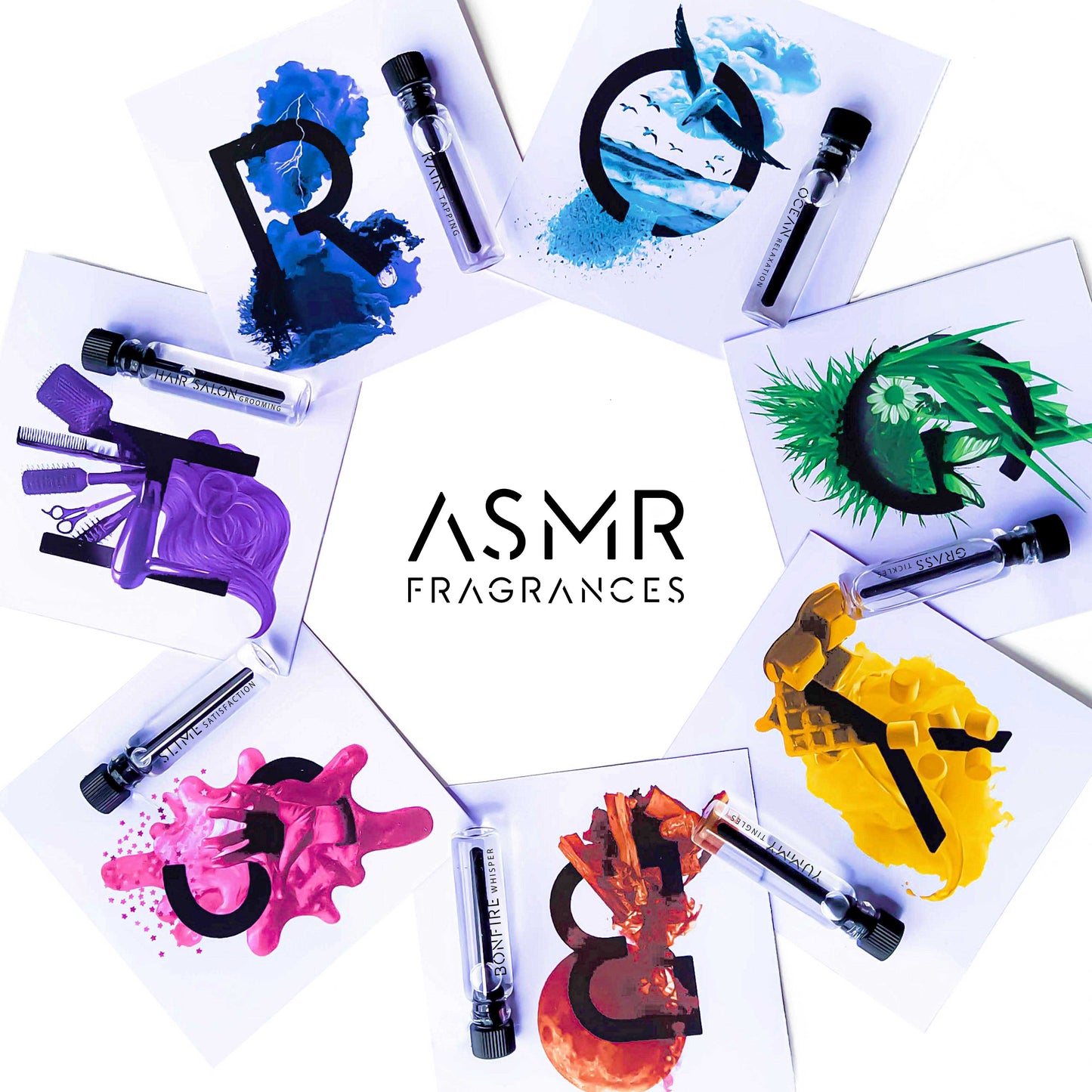 Very nicely done --- Très bien fait
Testing them was a special experience. The perfumes all smell authentic and exactly as you would imagine from the name. Very nicely done.
---
Les tester était une expérience particulière. Les parfums sentent tous authentiques et exactement comme on peut l'imaginer d'après le nom. Très bien fait.
Memories --- Souvenirs
ASMR Fragrances creates some very unique fragrances meant to invoke memories throughout life or put you in a "time and place" and that's exactly what each of these do. I have been intrigued by this brand since I first read about their fragrances and there certainly was no shortcoming when I sampled them! They smell identical to their names, notes, and even the memories & places they were intended to bring you.
Below, I have put each of them in order from my favorite to my least favorite with a short thought about each! Do not be fooled by the order, each of these are incredible and have beautiful quality scents and truly loved each of them.
🍯 Yummy Tingles
-Milky & honey over the top of caramel covered waffles. Brought me comfort and happiness- my favorite! This made me feel safe. Like breakfast on a cool fall morning with the smell of spices and honey on fresh baked goods in the air. I need this one immediately.
🌊 Ocean Relaxation
-Smells just like ocean air- aquatic, fresh, relaxing. This brought me to an exotic private beach on a luxury vacation.
💇🏻‍♀️Hair Salon
-Fresh, sweet hair products on clean hair. Took me to my happy place of doing hair. Something I miss doing!
🌧️Rain Tapping
-Comforting rain drops on flower petals in a mossy forest. This was a tie between this scent and Hair Salon. This smelled like a storm, wet grass, and woods. Very calming and true.
👽Slime Satisfaction
-Sweet, fruity scented slime. This smelled exactly like slime, however it smells like "purple slime" lol. Not necessarily grape, but a great smelling slime!
🌱Grass Tickles
-Fresh cut grass on a dewy Sunday morning watching the sunrise. This took me to the smell of fresh cut grass I'd smell growing up with my early bird dad would wake me up at the crack of dawn mowing 😂 this one was great and very calming.
🔥 Bonfire Whisper
-dry firewood with remnants of moss on cedar wood. Although this was last, this was still amazing. This is cool summer nights by the fire, marshmallows roasting and smoke swirling in the air while embers crackle in the sky.
---
ASMR Fragrances crée des parfums très uniques destinés à invoquer des souvenirs ou à vous placer dans un «temps et un lieu» et c'est exactement ce que chacun d'eux fait. J'ai été intriguée par cette marque depuis que je l'ai découverte et je n'ai pas été déçue lorsque je les ai testés ! Ils sentent comme leurs noms, notes et même aux souvenirs et aux lieux qu'ils étaient censés vous remémorer.
Ci-dessous, j'ai mis chacun d'eux dans l'ordre de mon préféré à mon moins préféré avec une courte réflexion sur chacun ! Ne vous focalisez pas sur l'ordre, chacun d'entre eux est incroyable et a de beaux parfums de qualité et a vraiment aimé chacun d'eux.
🍯 Yummy Tingles
-Lait et miel sur le dessus de gaufres recouvertes de caramel. M'a apporté réconfort et bonheur - mon préféré! Cela m'a fait me sentir en sécurité. Comme le petit-déjeuner un matin d'automne frais avec l'odeur des épices et du miel sur les pâtisseries fraîches dans l'air. Je vais l'acheter immédiatement.
🌊 Ocean Relaxation
- Sent comme l'air de l'océan - aquatique, frais, relaxant. Cela m'a amené sur une plage privée exotique pour des vacances de luxe.
💇🏻‍♀️Hair Salon Grooming
-Des produits capillaires frais et doux sur des cheveux propres. M'a rappelé le bonheur de se faire coiffer. Quelque chose qui me manque !
🌧️Rain Tapping
-Des gouttes de pluie réconfortantes sur des pétales de fleurs dans une forêt moussue. J'ai hésité entre ce parfum et Hair Salon. Cela sentait l'orage, l'herbe mouillée et les bois. Très apaisant et vrai.
👽Slime Satisfaction
- Slime au parfum sucré et fruité. Cela sentait exactement le slime, mais ça sentait le « slime violet » lol. Pas nécessairement du raisin, mais un slime qui sent bon !
🌱Grass Tickles
-Herbe fraîchement coupée un dimanche matin couvert de rosée en regardant le lever du soleil. Cela m'a amené à l'odeur de l'herbe fraîchement coupée que je sentais en grandissant avec mon père lève-tôt qui me réveillait à l'aube en train de tondre 😂 celle-ci était géniale et très apaisante.
🔥 Bonfire Whisper
-bois de chauffage sec avec restes de mousse sur bois de cèdre. Même si c'était la dernière, c'était toujours incroyable. Ce sont des nuits d'été fraîches au coin du feu, des guimauves qui rôtissent et de la fumée tourbillonnant dans l'air tandis que les braises crépitent dans le ciel.
Memories --- souvenirs
From favorite to least favorite :
🔸Hair Salon - this is so clean and nice. A freshie. Very soapy. Shampoo I'd wear this for sure!
🔸Yummy! - this is genuine gourmand. Smells like maple syrup and waffles. Very yummy ! Not a scent I'd wear ALL THE TIME. But easy to mix and be cozy!
🔸Slime - oh wow this is ASMR senses for sure. Instantly brought me to my youth - realistic Playdoh scent smells exactly like puddy slime and Playdoh - also one I'd mix and layer well.
🔹Ocean - simple clean aquatic. Very fresh a bit salty. Aptly named and very clean. I have other scents that actually smell similar
🔻Bonfire - Yuck 😮‍💨😳 it gives BONFIRE for sure. Very smoky. Dense. Woody. Almost a bit dirty. It instantly brought me to the smoky fireplace vibe. But. Not a fan personally.
🔻Grass - not a fan of mowing or being around grass smell - this is more earthy and clean. Very "green". Not a huge fan. It reminded me more of a woody green tree.
🔻Rain - this to me is a wet pavement. Wet concrete smell. Stones when they're wet. A bit gritty and dirty. Also. Reminded me a lot of Grass. They share a woody green wet vibe.
Overall such a unique brand and idea. I'm a huge ASMR fan and these scents absolutely give memories from scent and did a great job!
---
De mon préféré à mon moins préféré :
🔸Hair salon - c'est tellement propre et agréable. Très frais. Très savonneux. Shampoing, je porterais ça à coup sûr!
🔸Yummy ! - c'est de l'authentique gourmand. Ça sent le sirop d'érable et les gaufres. Très bon ! Pas un parfum que je porterais TOUT LE TEMPS. Mais facile à mélanger et pour être cosy !
🔸Slime - oh wow, ce sont les sens ASMR à coup sûr. M'a instantanément ramené à ma jeunesse - le parfum réaliste de Playdoh sent exactement comme le puddy slime et Playdoh - également un que je mélangerais et superposerais bien.
🔹Océan - aquatique simple et propre. Très frais un peu salé. Bien nommé et très propre. J'ai d'autres parfums qui sentent similaire
🔻Bonfire - Wow 😮‍💨😳 du feu de bois à coup sûr. Très fumé. Dense. Boisé. Presque un peu sale. Cela m'a immédiatement amené à l'ambiance de la cheminée enfumée. Mais. Pas fan personnellement.
🔻Grass - pas fan de tondre ou d'être autour de l'odeur d'herbe - c'est plus terreux et propre. Très "vert". Pas un grand fan. Cela me rappelait plus un grand arbre vert.
🔻Rain - pour moi, c'est une chaussée mouillée. Odeur de béton mouillé. Pierres quand elles sont mouillées. Un peu granuleux et sale. Aussi. Cela m'a beaucoup rappelé Grass. Ils partagent une ambiance humide verte boisée.
Dans l'ensemble, une marque et une idée si uniques. Je suis un grand fan d'ASMR et ces parfums donnent absolument des souvenirs de parfum et ont fait un excellent travail !
Wonderful experience --- Superbe expérience
The scents of this brand are simply a beautiful and wonderful experience. They have something for everyone The names of the perfumes already give you an impression of how it should smell according to "you".
My husband also liked them and so tested with them He sprayed Bonfire Whisper and I immediately got matches in my head Just lit matches. Then the old fashioned spicy tasting cinnamon candies of yesteryear crossed my mind Maybe for the people of overseas and other countries! It's like a spicy fireball (jaw breaker) tastes. So these two together make for me the fragrance Bonfire Whisper .
Then my husband sprayed Slime Satisfaction. I used to have in school slime in a jar Fluorescent green in color. This Slime Satisfaction smells a little synthetic plastic in my head because you have to imagine something like that in your mind. But it spread more to very nice dutch candy powdered candy bacon "no" bacon but as most of you know it is as marshmallows smell Baby soft slightly sweet and powdery .
I test Grass Tickles and Rain Tapping on my skin. Both live up to expectations! Grass is fresh crisp and it tickles your senses Nice freshly mowed wet grass that is warmed up by a just rising summer sun .
Rain Tapping is also a rain shower on a hot summer day. But in a nice and clean place. Like at an outdoor swimming pool with flower bushes in bloom with lots of green leaves and colorful flowers. That fragrant intense clean smelling downpour. Do you want where the rain shower also differs in smell. For example, if rain falls on a horse riding school on a hot day! So it smells very different But this one is, as above, beautifully clean and intensely fresh.
Save the last for best Ocean Relaxation. Ocean is a perfume that I love It also has a salty scentnote that i adore. The ocean is as big as the sky blue, fresh, crisp as the greenest grass and bright white of clean, pure, intense and yet wonderfull serene.
---
Les senteurs de cette marque sont tout simplement une belle et merveilleuse expérience. Ils ont quelque chose pour tout le monde Les noms des parfums vous donnent déjà une idée de ce qu'il devrait sentir selon "vous".
Mon mari les aimait aussi et les a donc testés. Il a pulvérisé Bonfire Whisper et j'ai immédiatement eu des allumettes dans la tête. Juste des allumettes allumées. Puis les bonbons à la cannelle épicés à l'ancienne m'ont traversé l'esprit. Peut-être pour les gens d'outre-mer et d'autres pays ! C'est comme une boule de feu épicée (jawbreaker). Alors ces deux ensemble font pour moi le parfum Bonfire Whisper.
Ensuite, mon mari a pulvérisé Slime Satisfaction. J'avais l'habitude d'avoir à l'école de la slime dans un tel pot de couleur vert fluorescent. Ce Slime Satisfaction sent un peu le plastique synthétique dans ma tête car il faut imaginer quelque chose comme ça dans sa tête. Mais il s'est propagé plus à de très bons bonbons hollandais en poudre de bacon "pas" de bacon mais comme la plupart d'entre vous le savent, c'est comme une odeur de guimauve Baby soft légèrement sucrée et poudrée.
J'ai testé Grass Tickles et Rain Tapping sur ma peau. Les deux sont à la hauteur des attentes! L'herbe est fraîche et croquante et elle chatouille vos sens Belle herbe fraîchement tondue qui est réchauffée par un soleil d'été qui vient de se lever.
Rain Tapping est aussi une douche à effet pluie lors d'une chaude journée d'été. Mais dans un endroit agréable et propre. Comme dans une piscine extérieure avec des buissons de fleurs en fleurs avec beaucoup de feuilles vertes et de fleurs colorées. Cette averse intense et parfumée. Voulez-vous où la douche à effet pluie diffère également par son odeur. Par exemple, s'il pleut sur un centre équestre par une chaude journée ! Donc ça sent très différent Mais celui-ci est, comme ci-dessus, magnifiquement propre et intensément frais.
Gardez le dernier pour le meilleur Ocean Relaxation. Ocean est un parfum que j'adore Il a aussi une note iodée que j'adore. L'océan est aussi grand que le bleu du ciel, frais, net comme l'herbe la plus verte et d'un blanc éclatant, propre, pur, intense et pourtant merveilleusement serein.
Interesting and amazing! I applaud! --- Intéressant et étonnant ! Je valide!
I bought the set out of curiosity and before considering buying the perfume that interested me (Yummy). Thanks to this kit I was able to test it, and discover the other flavors of the range.
Big astonishment for the Fire, incredible, it smells pleasantly of smoke! Really amazing and enjoyable!
Slime keeps its promises with its smell of cleopatra glue which then turns into the smell of modeling clay on the skin.
The hair salon perfume is also very successful!
I didn't go into the others that seemed less surprising to me. The cut grass scent is green and looks really nice to wear! But being in search of a gourmet fragrance, I did not test the Herbe Coupé, Océan (we find iodine) and Pluie on my skin.
The gourmand Yummy is adopted thanks to this discovery set, it smells of vanilla milk cream on me 😊 Can't stand too strong or heady smells, this perfume suits me very well, it doesn't last for hours but it suits me .
In addition, good to know, there is a discount currently on the Asmr fragrance site for the purchase of a perfume following the purchase of the discovery set. I hope I have helped you with this review!
---
J'ai acheté le set par curiosité et avant d'envisager l'achat du parfum qui m'intéressait (Yummy). Grâce à ce kit j'ai pu le tester, et découvrir les autres flagrances de la gamme.
Gros étonnement pour le Feu, incroyable, il sent agreablement la fumée ! Vraiment étonnant et agréable !
Slime tient ses promesses avec son odeur de colle cléopatre qui se transforme ensuite en odeur de pâte à modeler sur la peau.
La parfum salon de coiffure est très réussi lui aussi!
Je n'ai pas approfondi les autres qui m'ont semblés moins étonnant. Le parfum herbe coupé est vert et semble vraiment agréable à porter! Mais étant à la recherche d'une fragrance gourmande, je n'ai pas testé le Herbe Coupé, Océan (on retrouve l'iode) et Pluie sur ma peau.
Le gourmand Yummy est adopté grâce à ce set decouverte, il a une odeur de crème de lait vanillé sur moi 😊 Ne supportant pas les odeurs trop fortes ou entêtantes, ce parfum me convient très bien, il ne tient pas des heures mais cela me va.
En plus, bon à savoir, il y a une réduction actuellement sur le site Asmr fragrance pour l'achat d'un parfum suite à l'achat du set découverte. J'espère vous avoir aidé avec cet avis!
Regular price

$38.00 USD

Sale price

$38.00 USD

Unit price

per

Regular price

$38.00 USD

Sale price

$38.00 USD

Unit price

per

Regular price

$38.00 USD

Sale price

$38.00 USD

Unit price

per

Regular price

$38.00 USD

Sale price

$38.00 USD

Unit price

per

Regular price

$38.00 USD

Sale price

$38.00 USD

Unit price

per

Regular price

$38.00 USD

Sale price

$38.00 USD

Unit price

per

Regular price

Sale price

$10.00 USD

Unit price

per