RAIN Tapping
Regular price
$38.00 USD
Sale price
$38.00 USD
Unit price
per
THE SMELL OF RAIN IN THE FOREST
ORGANIC - WET - WOODY
The strong thunderstorm is rumbling, while the rain comes to embrace the trees, the plants, the grasses, the mosses, the mycelium. From this life cycle comes the organic scent of mother earth.
Top notes : Galbanum - Wet Dirt - Wet Grass
Middle notes : White Flowers - Mushroom
Base notes : Patchouli - Cedar - Moss - Ambergris - White Musk
Reminiscent and wearable at the same time, our fragrances are faithful reproductions of powerful and timeless olfactory memories.

Let yourself be carried away on a transcendent olfactory and memorial journey.

SENSATIONS

Discover our binaural videos associated with our fragrances, and enjoy a wonderful sensory, olfactory and auditory ASMR experience.

Relax, close your eyes and breathe...

MADE IN FRANCE

Our high-quality Eau de Parfums are made in the French region of Grasse, the perfume capital of the world.

Eco-friendly.

Vegan & cruelty free.
INGREDIENTS : ALCOHOL DENAT., PARFUM (FRAGRANCE), AQUA (WATER), LINALOOL, ALPHA-HEXYLCINNAMALDEHYDE.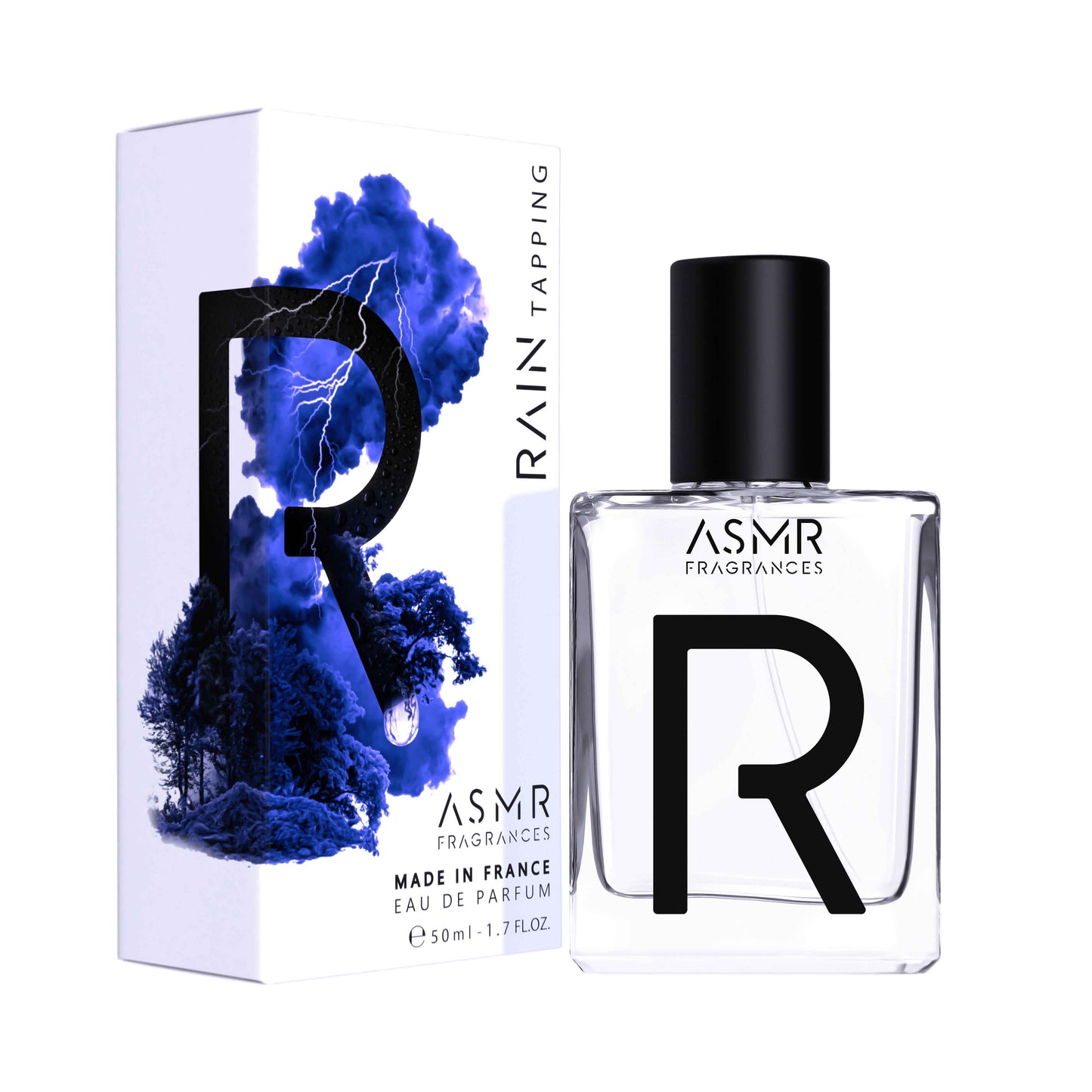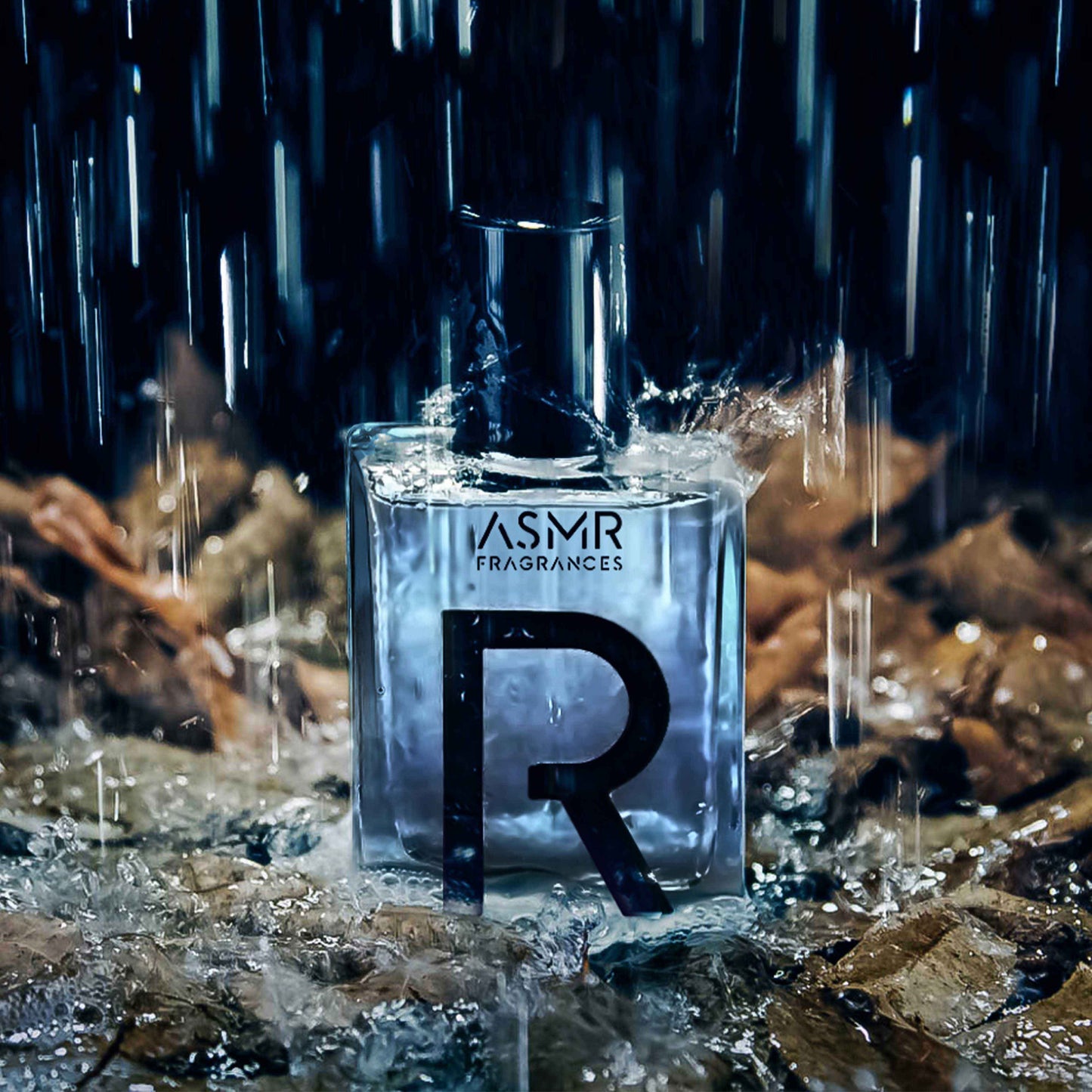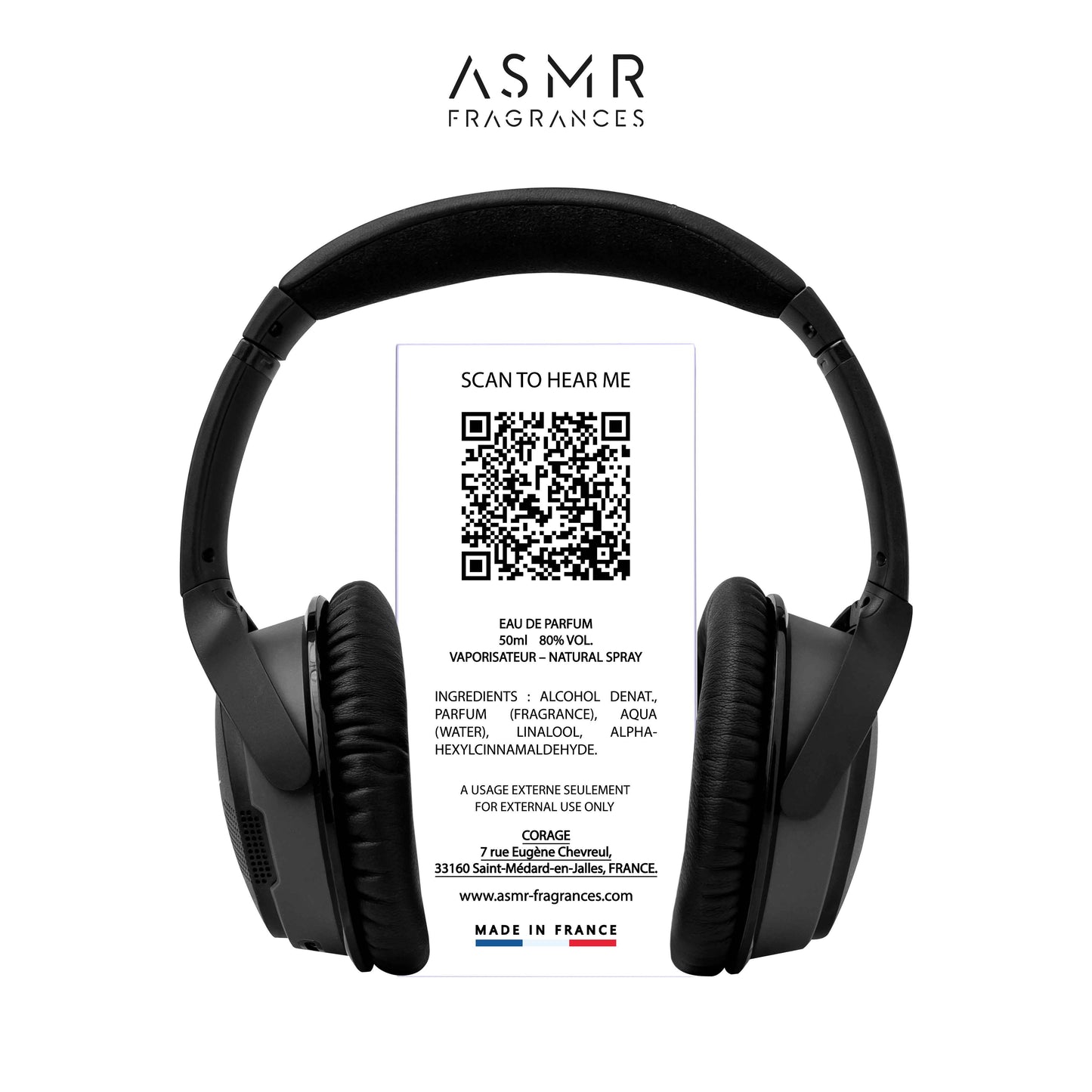 Product 1A --- Produit 1A
Product 1A --- Produit 1A
Aromatherapy --- Aromatherapie
It carries the rain's scent together with the smell of the moistured soil, wet grass and white flowers bouquet. The whole is settled on a deep dark earthy accord. Such a lovely and genuine interpretation of the rain accord in perfumes.
I love the aromatherapy idea behind ASMR fragrances but they are also pleasant and easy to wear compositions at the same time. Rain Tapping fits the constantly changing Spring weather outside so well: rain, shower, wind, hail, sun in turns all the time.
---
Il retranscrit le parfum de la pluie ainsi que l'odeur du sol humide, de l'herbe mouillée et d'un bouquet de fleurs blanches. L'ensemble est posé sur un accord terreux profond et sombre. Une si belle et authentique interprétation de l'accord de pluie dans les parfums.
J'adore l'idée d'aromathérapie derrière les parfums ASMR mais ce sont aussi des compositions agréables et faciles à porter à la fois. Rain Tapping s'adapte si bien au temps printanier en constante évolution à l'extérieur : pluie, averse, vent, grêle, soleil à tour de rôle tout le temps.
Organic scent --- Parfum organique
The sound of the rain needs no translation. Organic scent of damp plants and mycelia in wood, Mother Earth softly speaks to us.
---
Le bruit de la pluie n'a pas besoin d'être traduit. Parfum organique de plantes humides et de mycélium dans les bois, la Terre Mère nous parle doucement.
Rain droplets after the rainstorm --- Gouttelettes de pluie après l'orage
RAIN Tapping is more than just a blend of individual notes, it is the air infused with the scent of everything touched by rain droplets after the rainstorm.
---
RAIN Tapping est plus qu'un simple mélange de notes individuelles, c'est l'air imprégné du parfum de tout ce qui est touché par les gouttelettes de pluie après l'orage.
Earth and rain --- Terre et pluie
The niche and interesting composition of Rain is the smell of wet earth, wet grass, mushrooms and galbanum. This combination creates a fragrance that smells like earth and rain.
---
La composition "niche" intéressante de Rain est l'odeur de la terre mouillée, de l'herbe mouillée, des champignons et du galbanum. Cette combinaison crée un parfum qui sent la terre et la pluie.
Regular price

$38.00 USD

Sale price

$38.00 USD

Unit price

per

Regular price

$38.00 USD

Sale price

$38.00 USD

Unit price

per

Regular price

$38.00 USD

Sale price

$38.00 USD

Unit price

per

Regular price

$38.00 USD

Sale price

$38.00 USD

Unit price

per

Regular price

$38.00 USD

Sale price

$38.00 USD

Unit price

per

Regular price

$38.00 USD

Sale price

$38.00 USD

Unit price

per

Regular price

Sale price

$10.00 USD

Unit price

per